Be Safe and Secure with Safety & Security Window Films
Our safety and security films are specifically designed to keep shards of glass together on impact and come in two types. The clear safety and security window films are colourless, non-reflective and undetectable on glass, which makes them the perfect protection retrofit. It allows for the window to maintain its natural appearance day and night. The solar control safety and security films are tinted to provide sun related benefits and add privacy to the windows, as they are reflective so people can't see inside.
The resilient layers of high-tensile polyester and aggressive adhesives provide exceptional impact resistant capabilities – with thicker films offering greater protection. The films range from 2mm (50 micron) thick to 14mm (350 micron) thick and work hard to protect property and assets. All the safety and security films meet a number of Australian and International certifications.
Slows down unwanted guests from coming in through breaking glass
Holds glass in place during those unexpected weather events protecting you and your family
Meets Safety Glazing Standards
AS2208 along with intrusion/burglary resistance, fire, blast mitigation, natural disasters, earthquake and more
Reject up to 82% of the hot summer sun
Reduce energy costs by up to 30%
Block 99% of UV light that causes fading of your furnishings
Reduce glare by up to 85%
What you do in your home is your business
Have a look at these films in action...
The below videos contain graphic and distubring images which some views may find distressing. Viewer discretion is strongly advised. Many thanks to Solar Gard (video owners) for the use of the below videos.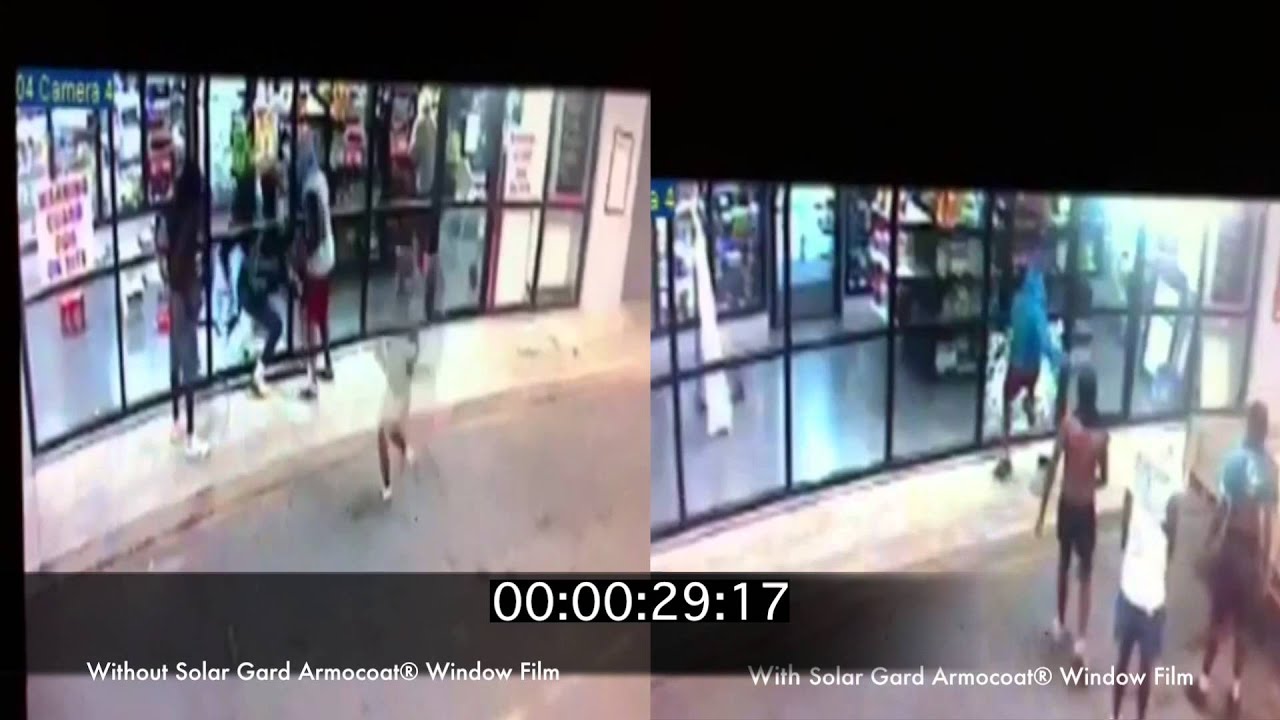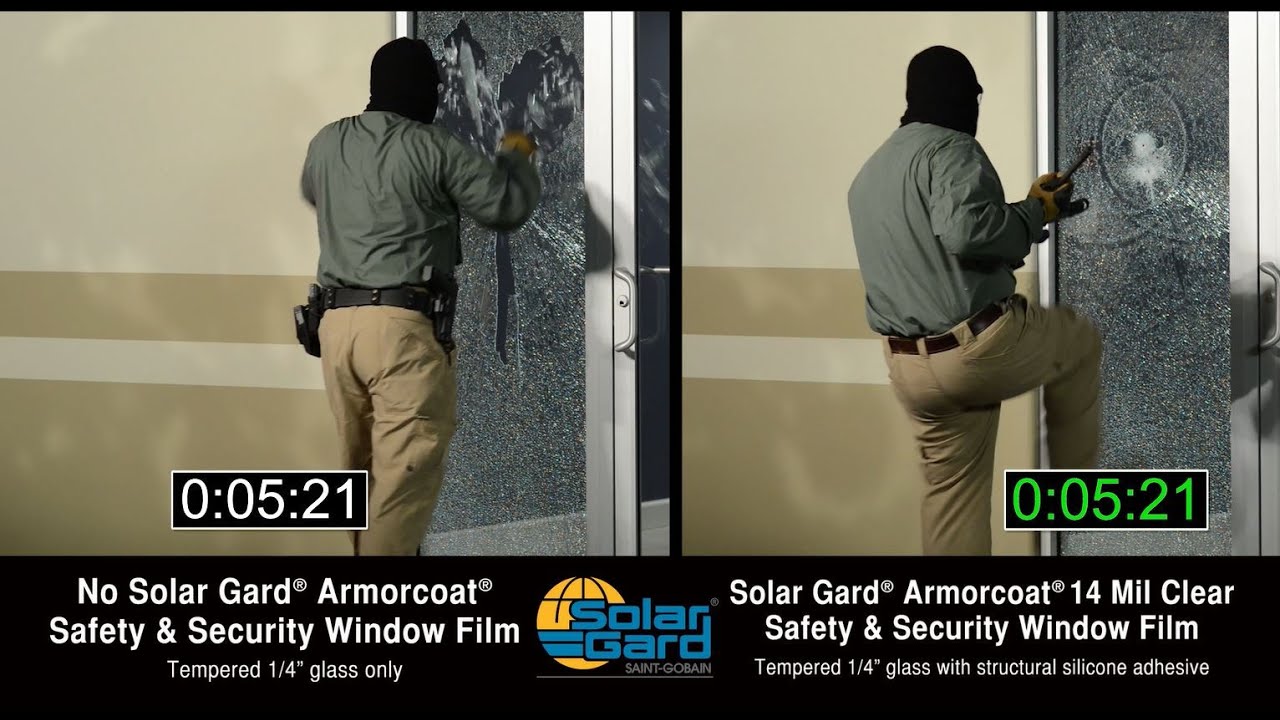 Frequently Asked Questions
What standards do these films meet?
Depending on the film type, the safety and security films meet a number of certifications including (but not limited to) safety glazing (AS2208, ANSI-CPSC, ASTM G155 and EN-12600), intrusion/burglary resistance (IGU_EN356), fire (ASTM D-1929, ASTM E-84, CSTB M1 and F 100 A 200), blast mitigation (GSA TS01-2003, ASTM-1642 and ISO 16933), natural disasters (ASTM E1886-1996 and ASTM E283-330-331), earthquake and other certifications.
Can I purchase film and apply it myself?
No, these films need to be installed by an authorised Solar Gard ArmorCoat or 3M Safety and Security trained and accredited installer in order for the glazing to be certified as meeting the required standard (as listed above).
Do I get anything to certify that the glass now meets the required standard?
A 'bug' is installed onto the glass to certify that the glass meets the required standard (as listed above). We can also provide 'certificate of test' from the manufacturers.
Will it reduce the natural light in the room?
Depending on the film type, yes, the natural light entering the room (or visible light transmission) can be affected. This is why we come and assess your home before we make a reccommendation on which film type is best for your home. The optically clear window film does not affect the visible light transmission.
Is the film installed on the inside or the outside of the building?
Majority of the films we supply and install are installed on the inside of the room. In some cases, an externally installed film is recommended. We will discuss this when we come out to your home to assess your windows.
Only films that are dye-based will turn purple or fade. None of our films are dye-based so you can be assured that no fading or purple colouring will occur and if for whatever reason something does go wrong, you're backed by a manufacturers warranty of 7 years to lifetime.
I don't like that mirrored reflective look.
Well you will be pleased to know that we have films that are clear, shaded (like a pair of sunglasses for your windows), slated (reflective but not mirrored) and if you do like that mirrored reflective look...we do have those too.
Can you see through it at night?
When it is lighter outside than it is on the inside, yes, you can see through the window film.
Will there be any joins in the window film?
Unless your window exceeds 1.8m by 1.8m there will not be any joins or splices in your window film. If it's likely that we may need to install a join or splice, we'll let you know beforehand. We also try very hard to limit joins with safety and security films to ensure maximum tensile strength.
We're an authorised installer of both Solar Gard and 3M, both of which offer the highest quality window films on the market. We also use other brands where we feel they are the right fit. We have an extensive network of suppliers so if there is something specific you had in mind, let us know and we can discuss it further.
Will it help with bushfires?
Film will have small bubbles in it after the installation, these will go away. Films that are not made to withstand Australian conditions may bubble over time. Our films are all suited to Australian conditions and will not bubble. If for whatever reason your film does bubble, you are backed by a manufacturers warranty of 7 years to lifetime.
It will hold the glass in place if the glass breaks due to a bushfire. The film does however (like everything on this earth) have a combustion point at which the film will burn. Simply put, it will help but certainly shouldn't be relied upon by itself for the protection of your property.
Prefer to Speak to Someone?
The team is always ready to help!