S&A of Tawonga South had a highly reflective solar control window film installed to assist with cooling their home and reducing glare.
Thank you again so much for organising our tint! It has made such a great difference and the out look is fantastic! The works were carried out so professionally and such fantastic customer service! So impressed with your customer service I wish everyone was like it...
Thank you for making my home much more enjoyable on those very hot days we have been experiencing over the last few weeks. What a difference it has made in keeping the house cooler, and the privacy I now have where I can look out and prying eyes can't see in.
The service was amazing from my first telephone call to the completed job, totally professional in every way, was given a great selection of films to choose from, and advice on what was best suited for what I wanted to achieve, a much cooler home with less glare from the hot sun.
It looks fantastic, all my friends and neighbours comment on how good it looks and want the results that I have, I would highly recommend if you're looking for a cooler house in the hot Australian sun and warmer home in the winter I would certainly recommend AlpineTint. What a difference it has made in a couple of weeks, I now have a cooler home.
A of Mitcham had shaded and highly reflective slated solar control window films installed to assist with cooling her unit, adding privacy and reducing glare - as you can see.
R&M of Bright had some very high windows
which were letting a lot of heat in so we
installed a light shaded solar control window
film to help.
Living in the Bright area, we were so pleased to be referred to AlpineTint, as we hadn't been able to find anyone who could assist with several very high windows which were causing us a heat and glare issues.
The team worked with our schedule to organise a visit and we were provided with 3 different tint options as a solution. Installation went smoothly and we're extremely pleased with the outcome which allows the windows to remain open to views, while reducing glare and heat and furniture damage.
Enjoyed meeting the team and thanks again for going over-and-above to help us reach a positive outcome. All the best to Alpine Tint and we're happy to recommend your company."
Thanks so much for the installation of the film last week, we have noticed a huge difference to the heat upstairs already. No longer will the upstairs bedrooms be too hot to sleep in on those hot days. You have been excellent to deal with, professional, friendly and on time."
L of Bright had a major heat problem in her upstairs rooms so we went for the most reflective mirrored solar control window film we have and cut out up to 82% of the heat coming through her windows.
R&C of Tawonga South were that happy with us and our products they called us back to do their new house before they had even moved in. The top photo is a highly reflective mirrored film we installed at their first home to reduce heat and the bottom photo is the new house where we installed an optically clear dual-climate film to keep them warm in winter and cool in summer.
Our experience with AlpineTint has been excellent. The work was carried out in a very professional manner. The quotes and options enabled us to choose the optimum configuration. The installation worked out very well. Keep up the good work!
Their product is excellent and their service is outstanding! Mate it's the best! It's working even better than I had hoped and we've had frosts nearly every morning for a fortnight now!
M of Thurgoona was feeling the cold so we installed a slightly reflective slated dual-climate window film to help out.
This was a large digitally printed, privacy/modesty bands, frosted and safety decals commercial piece of work we undertook.
It's been an absolute pleasure working with you and I'll definitely be putting your name up for future project consideration.
This was a large frosted, 3M Fasara decorative,
privacy/modesty band and safety decals
commercial piece of work we undertook.
This business in Mansfield was getting quite hot with morning sun plus they also deal with confidential client information so a dark solar control window film was perfect for them.
It has been 6 months since you tinted the windows of my home in the Buckland Valley, and I am so very glad I had them done! Others have spoken about the hot summer; I keep wondering how I missed it and then remember my windows really must have worked exceptionally well! I only used the air conditioning for cooling one afternoon! Now we are enjoying autumn waether and I am enjoying the benefits of the retained daytime warmth for the evenings. Those couple of cooler days and evenings we had last week meant lighting the fire...but I could let it die out earlier as the heat was retained so much better. So, less wood was burnt. So even though tinting costs to install, I am already saving on electricity and firewood - happy! But the real kicker is the privacy I enjoy now that folks passing by can't see into my living space from the street. They look at the windows for longer - at their own reflections - but can't see me watching them!!! LOVING IT. Thank you so much for the window tinting, energy savings, AND the ongoing entertainment.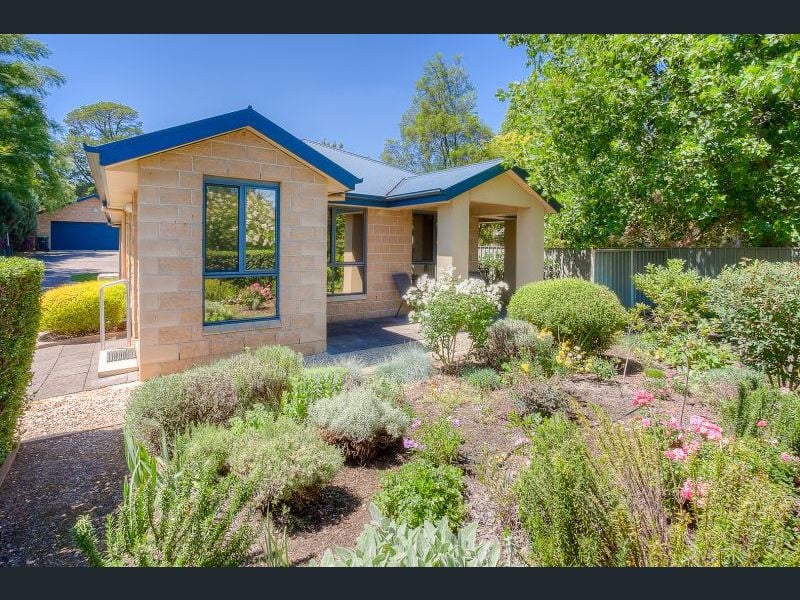 Wow what a review! Hard to add much to that other than the fact that we installed a dual-climate window film that is retaining up to 48% of the winter warmth and rejecting up to 72% of the hot summer sun. M of Buckland was that happy she also got her investment property tinted as well.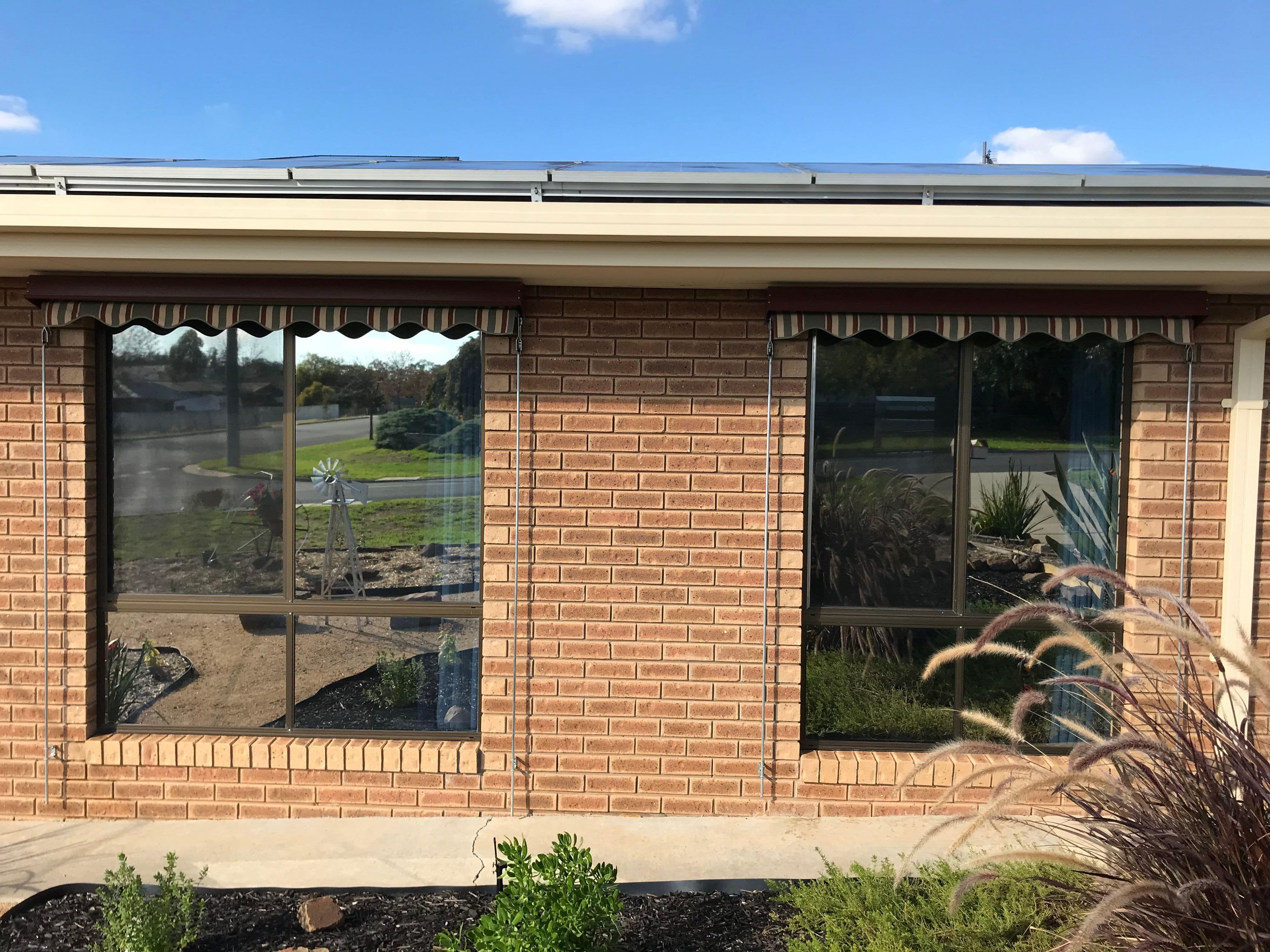 B of Wahgunyah had a problem with it being too hot in summer and too cold in winter. We added a dual-climate window film which is now retaining up to 42% of the winter warmth and rejecting up to 78% of the hot summer sun.
Totally professional, So very happy with the recommended product Chris suggested would best suit our needs....Thank you so much.
im having my windows tinted at this very second and im so happy with the look. very professional and prompt service highly recommend these guy's you won't be disappointed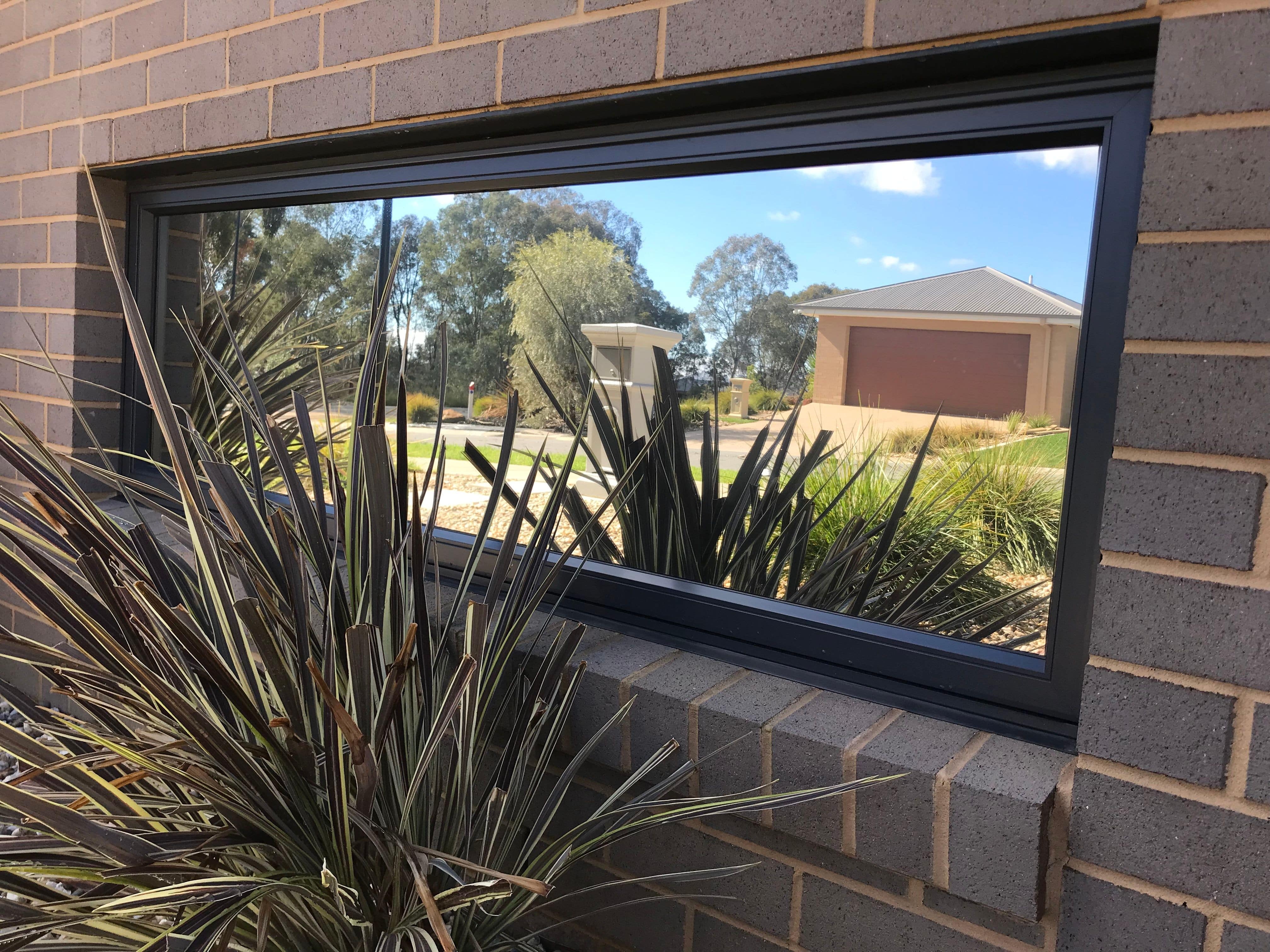 C of Wodonga had a major heat problem and lives on a main road so was keen to reduce the heat and add privacy. We went with a highly reflective mirrored solar control window film we have and cut out up to 82% of the heat coming through her windows, added privacy and made it look pretty good to boot.
I'm so glad I chose to have my windows tinted it's made such a difference this summer, the unit is os much cooler, I noticed the difference particularly when you have been out and come home to much cooler home, the privacy it gives is wonderful, I'd reccomend AlpineTint to everyone, great service friendly staff and reliable.
Alpine tint quoted promptly ,they asked what I hoped to achieve from the tinting of my windows, they asked about my likes and dislikes ,what colour tint I preferred ,they explained what I could expect from the tinting of my window what sort or thermal benefits I could expect and how the tint would impact the quality of the light and external view of my home . Options were given and the benefit of each. The customer service is second to none and all my expectations were met .The job was done in a timely manner once the quote was accepted.
Absolutely fantastic service! We love the frost tint on our front door, thank you again! Very happy customers! Will definitely recommend.
Great install! Good communication and friendly service thanks very much for the install on a tricky window